Always fresh and original, Mark Onspaugh, author of the popular new "Christmas Ghost Stories," brings us another thematically organized collection in his new book "Dark Valentines." Unexpected twists on the classic themes of love, loss, passion and horror are included in this bouquet of old and new offerings from Onspaugh's fertile imagination.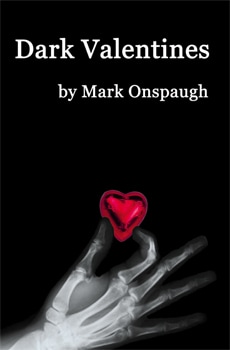 Among the previously published stories are "The Broken Hand Mirror of Venus," nominated for a prestigious Pushcart Prize, "A Sweet Girl for Todd" a lonelyhearts tale that exposes the dark side of the tanning industry, and the hauntingly heartbreaking "Song of Absent Birds," which explores the true meaning of love in the post-apocalypse.
New stories include the sweepingly timeless romance of "Let My Love Carry Me Home," a few comedic turns such as "Cupid Versus Dracula" and three new Red Lion fairy tales which readers of Christmas Ghost Stories have loved so much.
Whether intended as a treat for your nearest and dearest or just a delicious indulgence of your own, the thirteen tales of "Dark Valentines" offer a sumptuous feast for readers of new adult fiction.